Picturing a supermarket biscuit aisle, right now it's chocolate and nuts that appeal. The nuts might be an issue though, after a cobnut-related incident over the weekend. So out come the recipe books, for I am trying to justify the inclusion of all recipe books on my cookery book shelves and the baking ones are the least frequently used in these days of sugar-guilt.
Recipe books have now been consulted and I have deviated from the nut element and have a shopping list (which consists of unsalted butter and icing sugar, the latter which ran out in a puff of powdery dust almost to the exact gram needed for my last baking foray). I was going for chocolate, raisin and peanut clusters but had a bit of a wobble about peanuts after the nuts and weirdness of Saturday night (I'll explain in a full-on digression later; it's not as exciting a tale as you might hope though), so I opted for cinnamon chocolate shortbread. The recipe seems adamant that the biscuits need to be star-shaped but I'll be emptying out my tin of dough cutters and the biscuits will be shaped according to my collection, which I doubt I've familiarised myself with for at least six years. I have a suspicion there is an abundance of number cutters and I'm hoping not to have to resort to numbers on the grounds that they have been known to force me into being far more superstitious/obsessive/anal than I feel is acceptable.
Cinnamon chocolate shortbread is, to my taste at least, neither cinnamony nor chocolatey and even the shortbread element isn't, well, shortbready. They taste nice enough though, and they crumble over yoghurt very nicely.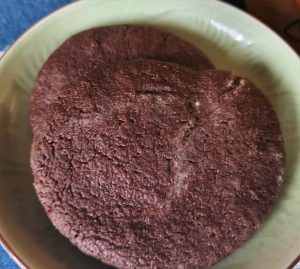 As for the shapes, I started on little people, an angel and a number 2 but within maybe ten shapes, most of which melted (it pays to follow the recipe's suggested 30 minutes in the fridge before cooking; I know this from not having done that with the first of two trays), I resorted to circles. As a slight aside, I could never go on Bake Off, at least in part because of the high faff factor. The weird floury stuff on top of the biscuits is baked flour. My kitchen is hot, my hands are hot and the mixture melted quite a lot so I needed quite a bit of flour. The recipe directed that fork holes be dotted across the biscuits and sugar sprinkled on top. I managed a few half-hearted fork marks, abandoned the sugar and baked extra flour on top instead. My heart wasn't in these biscuits, they were too sticky and the shaping took far longer than I was in the mood for. For that reason, to minimise the amount of shapes I needed to cut, thus reducing prep time, I ate quite a lot of the raw mixture, which, I realised afterwards, was ever so slightly better than the final, slightly crumbly, circular shortbread blobs. And the angel and little person blobs too. The number 2 was eaten as dough, it didn't make it out the other end of the tiny 2 cutter in anything resembling a 2.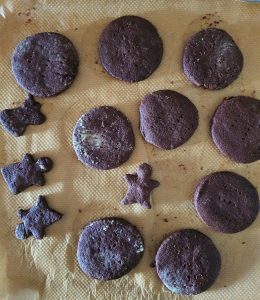 Anyway, the cinnamon chocolate shortbreads did not satisfy my nutty chocolate craving. But I'm making my way slowly through the disappointing shortbreads.
As for the cobnuts, I am rather partial to what I consider wet nuts (to snigger at that would be very immature) and I ate ten or so cobnuts straight out the shell. Yum, yum. Then the roof of my mouth felt itchy. Then that sensation started increasing and slowly moving down my throat. I've been there before, it's not nice. At least now I know that an antihistamine tablet pretty much sorts it out. But this time, I ended up with a weird kind of sore throat, so convinced myself I had caught a cold, the catching of which bothered me as I thought I had been careful with germs to safeguard against Covid-19. The nut-reaction/sore-throat lasted into the next morning and then disappeared, with no side effects and with my being none the wiser as to what caused it, nuts or a mini virus. A week has now passed and I feel ready for nutty biscuits. But, sigh, the cinnamon chocolate shortbreads have yet to be finished. They are a slightly oh-no-not-more kind of gift that keeps on giving.