Mojácar (pronounced Mohaca), Almeria, Andalucía, Spain
If you were to draw a single-peaked, snow-capped mountain, you would also have drawn Mojácar, though in reality the mountain would be a hill of more deserty rock and the snow would be the white buildings clinging to the top of the hill.
Mojácar Pueblo is the hilltop town, Mojácar Playa, just over a mile away, is a Mediterranean beach resort.
Mojácar Playa, to my mind, is a British holiday resort of limited appeal.
Mojácar Pueblo features in lists of Andalucia and even Spain's prettiest towns and villages and has a mixed and interesting history, which was influenced largely by its Moorish era. It is pleasant but I do not think it is worth travelling out of your way to visit if that is the only reason you'd like to go there.
If you look at Instagram, most photographs seem to be people posing in the narrow pedestrian streets lined with white houses and flowers or photos from one of the main viewpoints across the deserty mountainy hills and the sea. Photo-worthy but obvious.
How about a bit more originality and creativity to your photos. Here are some suggestions:
Mojácar Pueblo is full of flowers and pots. Photos of plants in pots, which look striking against the white walls.
The region has Indalo all around. They are replicas from a cave painting, seemingly a man balancing a rainbow over his head, and signify good luck and the warding off of evil. How about a series of Indalo photos.
As the sea is so close, how about not just taking sea views but taking photos of glimpses of sea between the white buildings, a series of sea glimpses framed by the white and flowers.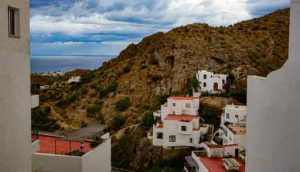 There are a lot of coloured doors, which of course look stunning against the white houses. How about a series of corners of doors with the white.
On a practical note, either from a photo variation perspective or to consider whether or not to visit on a particular day, Mojácar market day is Wednesday, from around 9am to around 1pm, and it's a fairly big market for a small town. There is plenty of free parking on the roads up to Mojácar Pueblo but securing a space is a big challenge on market morning; don't underestimate how busy it gets. It is also very busy with tourists, including coaches.