You know those childhood pictorial mix and match flip books where you can flip the head/body/legs etc to create a kind of Frankenstein figure? Well, this is five days in Ljubljana mixed and matched to create a kind of favourite day, which by no means is advice to only spend a day in Ljubljana.
Wake up feeling lively and alert (hahaha, yeah, right, that'll be the day!), wrap up for January sub-zero temperatures and, wow, at the bottom of the road we're staying on, there's the river, houses and castle all foggy, frosty and magical.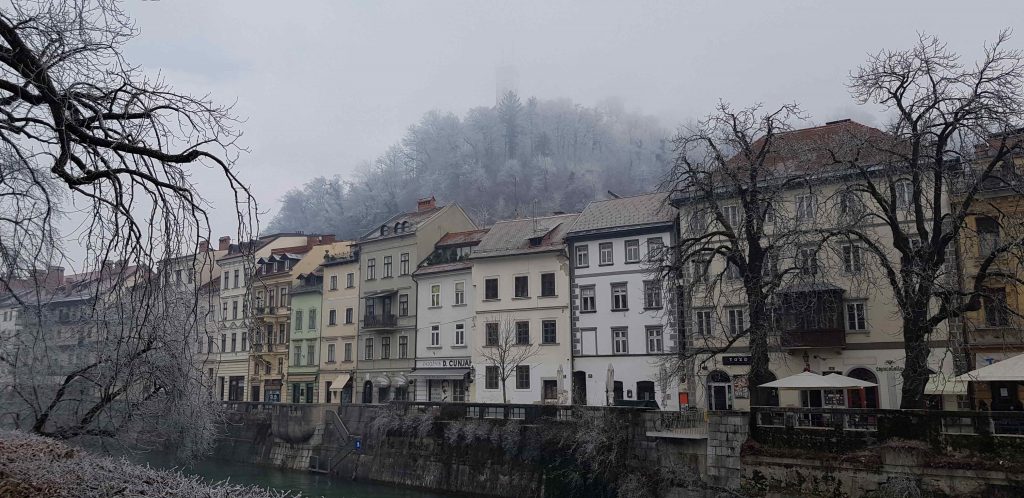 After the "oo, pretty" distraction, back up our road for caffeine-fuel.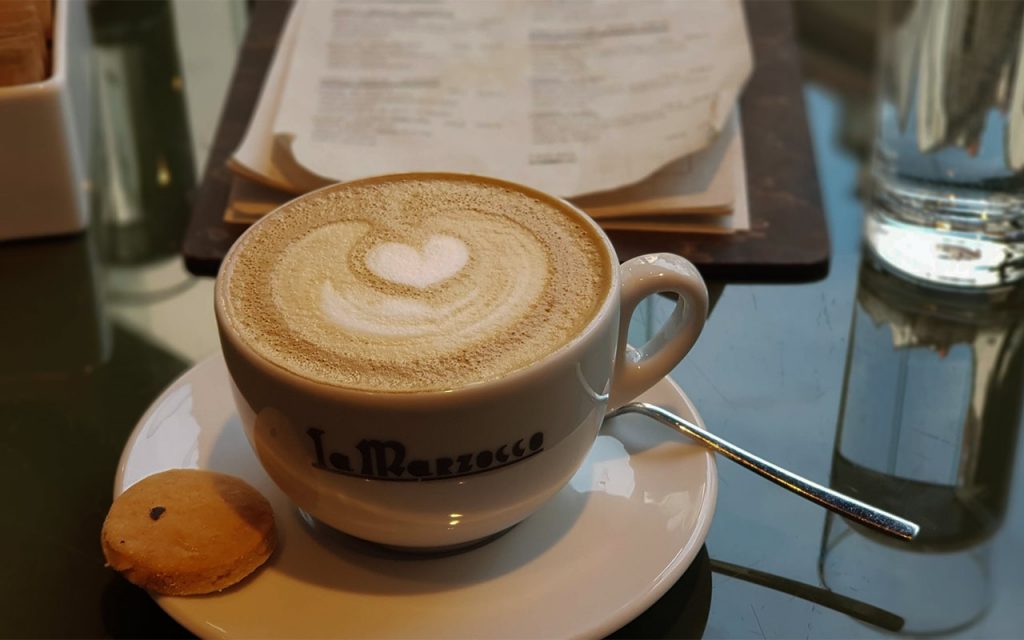 I had read about a fully working vintage printing press and shop and, as we were passing, via my skilful accidental, ahem, detour, we went in. "No shopping, it's all too expensive" … bought a book and a notebook. Also enjoyed having some of the history explained to us.
A lovely sunny day, how about walking via a Brutalist square to see a different side to Ljubljana. (Yes, left photo from the beautiful sunny day, right photo on a heavy-frost day)
After a meagre breakfast in our apartment (a pastry), I could 100% justify a hearty (delicious) Slovenian lunch.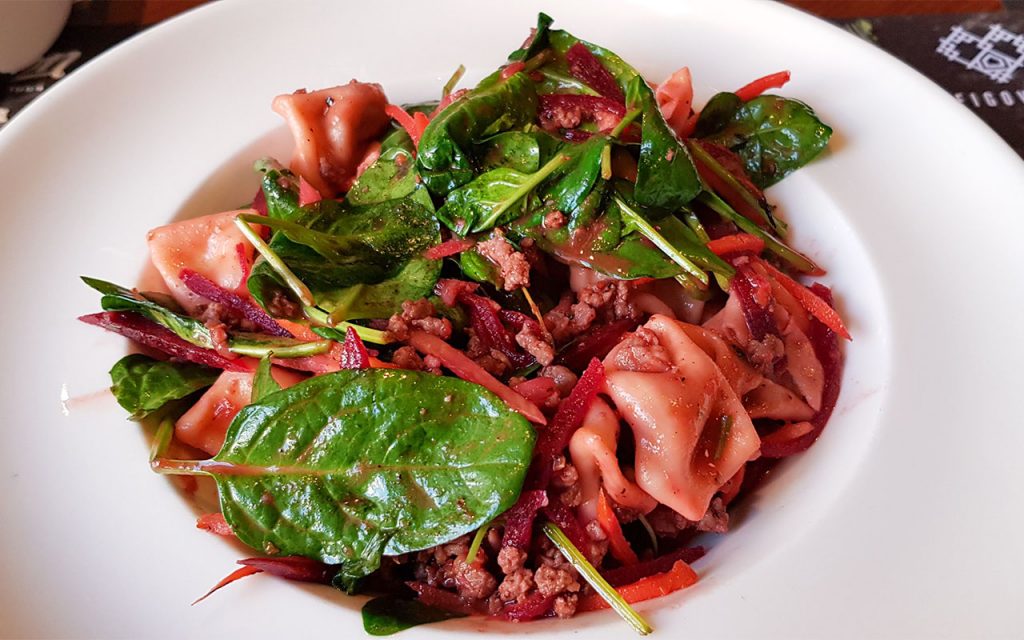 Powered by sausage meat sauce and potato-filled dumplings, no excuse for not tackling the hill up to the castle for the views, via the dragon bridge.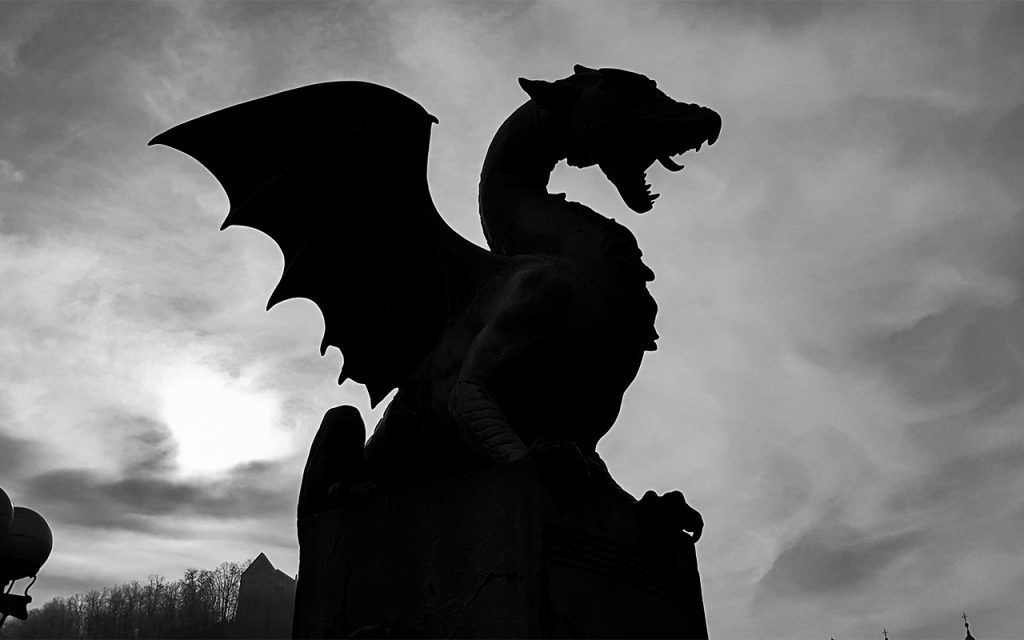 Well, as we're passing through, might as well wander around the market and contemplate a dessert biscuit (mmm, lots of cheese in the indoor market too – cheese course?). (BTW I think it's fermented cabbage in the vacuum packs)
Ah, a coffee shop just across from the market at the foot of one of the routes up to the castle? That looks nice, an afternoon pick-me-up before making the heroic climb.
Right, run out of excuses and can't face the funicular with my vertigo, so up we go, up, up, up to the castle … oh, it's not actually (A) much more than a small hill or (B) particularly hard to climb … so, ok, I concede, we "walked up" the hill. Definitely worth it to see the city and the snowy Alps beyond and, also, the villagey feel to the views coming down from another side of the hill.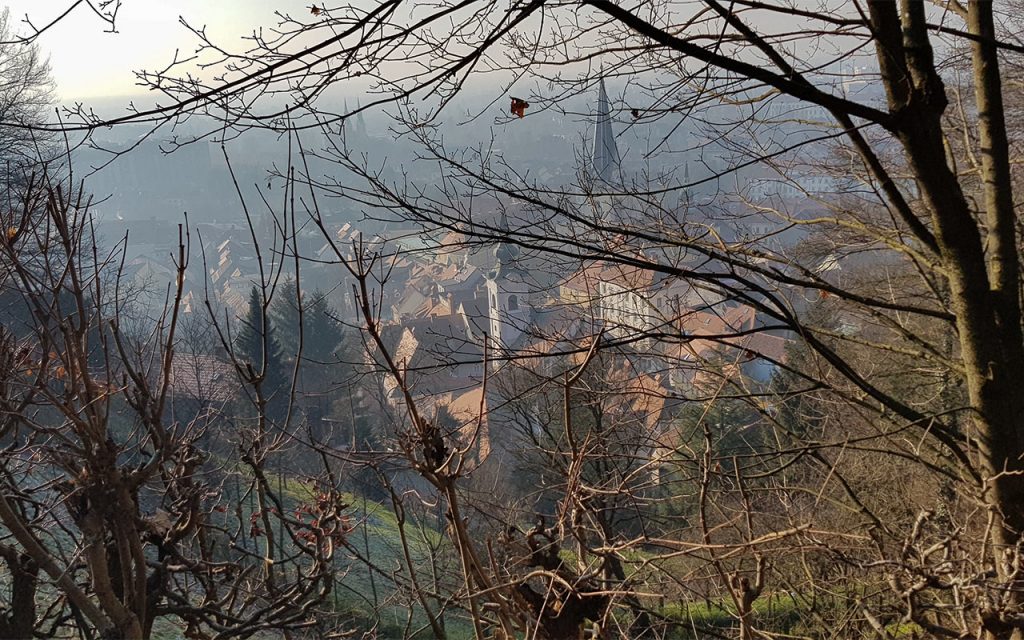 Part of the joy of a holiday is also having rest time, so a few hours between dusk and dinner time sitting/napping in our accommodation, then out for what seems to be a guaranteed delicious dinner and excellent wine in this city. That log of meat is very slow smoked beef rib that was exceptional in both taste and texture … and generosity of portion size.
(Where there are links, click on them for more specific information in a listings post soon to follow)