… experiment at home with food you can't try on holiday?
#11
Malaysian food
I knew next to nothing about Malaysian food. Word association resulted in chicken satay (yum), street food, probably coconut and lemongrass …
Some other ingredients I thought of appeared not to be quite as Malaysian as I had guessed, so that very short list above was the extent of my knowledge about Malaysian food.
I can't go to Malaysia right now, so I decided to attempt an authentic-as-possible Malaysian street food experience with my partner and a friend of ours. To do this, I chose a Malaysian cookery book (I know, I know, there are lots of recipes online; I like books), a local grassy area and collated (ie searched for in our cupboard-of-doom) my tiffin and insulated bags for the street food/picnic element.
I decided to list all the ingredients below (except water) as I had initially thought that I wouldn't have many ingredients at home or wouldn't be able to buy them from an everyday supermarket. As it happened, I had quite a few, including curry leaves in my freezer (as they aren't readily available but freeze really well), and I was able to buy everything in my local Tesco with the exception of tamarind concentrate and dried shrimps, both of which I bought in a nearby Chinese supermarket. My point here is that, from an English food perspective, Malaysian ingredients are not as hard to come by or as unfamiliar as I probably expected.
Menu
---
Satay ayam with kuah kacang
(chicken satay with peanut sauce)
Daging lembu dan sadera
(stir-fried beef and celery)
Kubis minyak hebi
(stir-fried sweetheart/hispi cabbage with shrimp chilli oil)
Nasi kunyit
(turmeric rice)
---
Extras: Thai prawn crackers and crispy dried shallots
Drinks: ginger ale and sparkling water
Dessert: almond and cardamom cake with cardamon and vanilla fresh cream and stewed rhubarb with star anise, cardamon and ginger
Recipe list
---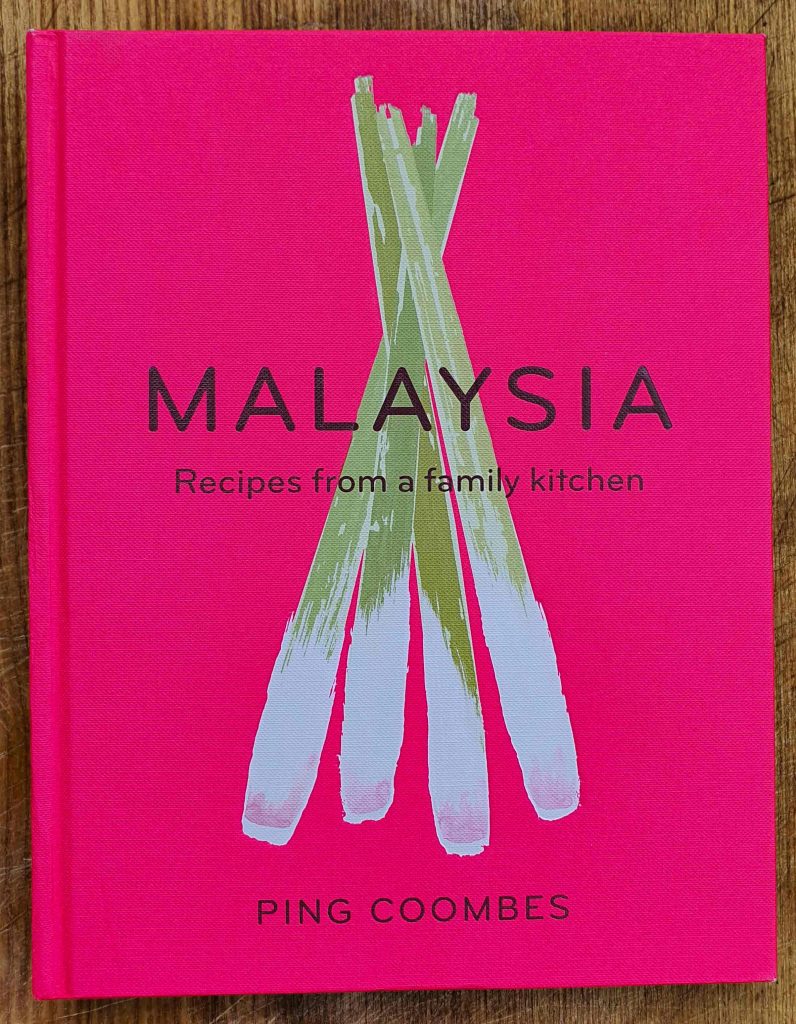 Malaysia
Recipes from a family kitchen
by Ping Coombes
Peanut sauce (p40)
shrimp chilli oil (p43)
chicken satay (p49)
turmeric rice (p96)
stir-fried beef and celery (p159)
stir-fried sweetheart/hispi cabbage with shrimp chilli oil (p190)
Ingredients for menu
---
dried shrimps
chicken thighs
rib-eye steak
onions
garlic
ginger
lemongrass stalks
shallots
curry leaves
celery sticks
dried red chillies
ground turmeric
ground cumin
salt
black mustard seeds
ground white pepper
whole black peppercorns
salted peanuts
caster sugar
chicken stock powder
jasmine rice
cornflour
vegetable oil
tamarind concentrate
dark sweet soy sauce
coconut milk
oyster sauce
light soy sauce
Cooking notes
(in order of completion)
---
1. Peanut sauce
It took me far longer to make (fortunately, I had the foresight to make this the day before) than I expect it should have. I would say this is a high faff dish but with an "oh my goodness, that tastes amazing" result, which made me pretty much forget the hard labour to get there. I nearly lost the will to finish this at quite an early stage though, deseeding the rehydrated dried chillies (done along with the same process for the shrimp chilli oil). Didn't stir it enough while it was thickening (a process which took longer than the recipe stated) and I lost the creamy consistency as it separated a bit, which only really seemed to affect the appearance. Worth it for the end result.
2. Shrimp chilli oil
I am not sure fishy chilli oil is something I like, not being a massive fan of those two elements, so I made this kind of begrudgingly. See above re the chilli preparation. I actually halved the amount of dried chilli in this (I couldn't bring myself to use 50g dried chilli). This was kind of ok to make, in a fishy chilli messy kind of way. I also made this the day before, it makes loads and should keep for ages.
3. Chicken satay
Delightfully straightforward. I marinaded the chicken the day before so all I had to do on the night was skewer the chicken pieces and grill. How hard can it be attaching pieces of marinated chicken to a skewer?! Easy peasy.
4. Stir-fried beef and celery
Didn't take long to prep everything and was quick to cook. I did salt the steak that morning to make it a bit more tender, and it did end up tender and juicy. Easy.
5. Stir-fried sweetheart/hispi cabbage with shrimp chilli oil
As with the beef and celery dish, prep-and-cook. Easy.
6. Turmeric rice
Only a bit more faff than cooking plain rice. The method was a bit slower than my normal rice timings, but 30 minutes of leaving the rice to finish off in a pan with a lid on is hardly taxing.
Tasting notes
(in order of popularity)
---
Chicken satay with peanut sauce
Unanimous verdict: very, very tasty and could eat it every day (ish). We all decided there should be more peanut sauce in our lives. Chicken, from having been marinated (actually, I got my days mixed up and marinated the chicken two days in advance), was juicy and tender and full of flavour.
Turmeric rice
Chris doesn't usually like rice but forgot himself and demolished a fairly big portion. Duncan and I both enjoyed it. I would definitely make this again, particularly as I don't particularly enjoy rice.
Stir-fried beef and celery
I liked the beef a lot and accepted the celery as part of the dish. Chris liked the beef but didn't eat the celery after eating one piece (in fairness, he'd had a bad, stringy celery incident the night before and wasn't feeling the love for celery anyway). Duncan ate it all but was a bit "meh" about the dish, especially the celery.
Stir-fried sweetheart/hispi cabbage with shrimp chilli oil
Despite toning down the chilli in the shrimp chilli oil, I found this the hottest dish. As a vegetable dish goes, this was more exciting than most I make and I liked the texture of the cabbage. Doubt I'd make it again. Duncan and Chris less enthusiastic than I was. Neither of them particularly noticed the shrimp flavour. I have a vague recollection that I thought the oil would be really hot/spicy (for me, it was quite hot, despite half the chilli) so added a bit less than the recipe stated. I could taste fishy chilli, but mainly chilli.
As an idea for a Friday night out
In five words: picnics are the way forward!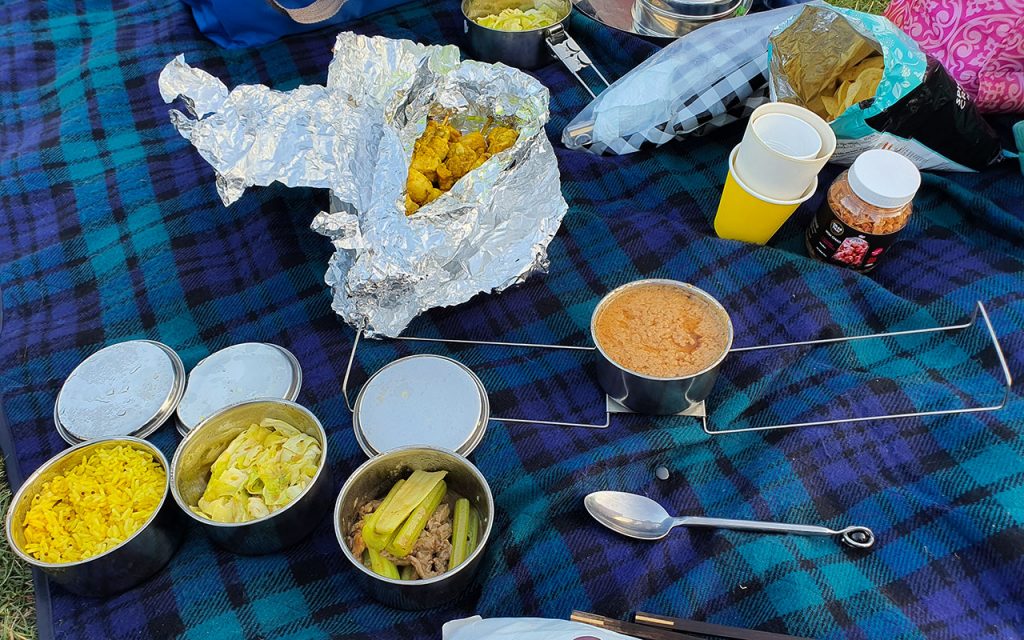 There was a kitchen-related stage on the picnic night when I wondered if a hot picnic really was the way forward though.
To put it mildly, it was quite tense in the kitchen, my biggest issue being to have everything packed for the picnic while still hot. My partner Chris's biggest stress was his insistence that he couldn't possibly leave home without having done the washing up. Yeah, you can imagine, there were some terse exchanges, tuts and eye-rolling.
An area with seating (to cater for knee issues) had been earmarked in a nearby park area and our friend, Duncan, got there first to mark our spot – it was Friday night, after all, parks being the new pubs in Covid-19 times.
Somehow, even with approximately 25 minutes door-to-park, everything was still hot enough.
As for the street food element, I made or reheated everything, keeping it all as hot as possible, and served it into three tiffin towers, with the chicken satay wrapped in foil. We packed a couple of picnic blankets, tray-type plates for the tiffin compartments, chopsticks, cutlery and serving spoons, kitchen towel, plastic bags for rubbish and dirty plates, hand gel, a cushion (part insulation/part comfort for one lucky person), paper cups, a drink selection (Duncan's veritable mobile drinks bag, all non-alcoholic and exciting), a tub of dried shallot sprinkles, a packet of Thai prawn crackers for extra crunch and ice packs to keep the creamy dessert cool. So, no, it wasn't a quick, impromptu kind of picnic. But it was an enjoyable evening and well worth the effort, for the food, the novelty, the socialising and the hot picnic element.
A bit about Malaysian food
---
I asked a Malaysian friend and her mum about Malaysian food after I realised how little I knew. I wanted to ask them rather than just Googling as I know my take on "what is British food?" would be based on my knowledge and experience on a more localised basis, which kind of interests me more than a generic "Brits eat fish and chips/pies/roast dinners/[sterotype dish of choice]".
"Melting pot" and "hotchpotch", at the risk of using a cliche, seems a good way to summarise Malaysian food in three words, were that the challenge I'd posed my friend. This is at least in part because Malaysia consists of, broadly, four main cultural cuisines: Nonya; Malay; Chinese; Indian. My friend and her mum's perspective is Malaysian Chinese, hence their different ingredient emphasis to someone who is, say, Malaysian Indian.
The savoury dishes probably most associated with Malaysian food are satay (grilled skewered meat with a spicy sauce, often peanut-based), Rendang curry (by some, more closely associated with Indonesian food, beef stew with spices and coconut) and laksa (a spicy noodle soup, though a lot more to it than just that). Though I suspect I was given that list with the perspective of, "Mmm, what do I most fancy eating", as I know my friend particularly loves those dishes!
When pushed for ingredients most often used for curries: curry leaves; ginger; shallots; chillies; ground turmeric; coconut milk. Similarly, char kway teow (stir-fried flat rice noodles) incorporates the Malaysian Chinese essentials of dark soy sauce, light soy sauce, oyster sauce and kecap manis (sweet soy sauce). They also mentioned belachan (shrimp paste), lime juice and sweet chilli sauce.
A planters' curry (usually chicken) was mentioned as a family favourite, which I have just Googled and which I now really want to make and eat. The name comes from Malaysia's tea plantations, which makes it sound even more evocative, and which she said her family enjoys with sides of, for example, raisins, cucumber, tomatoes, bananas and Ikan bilis (dried anchovies – very unlikely to be used by me as I don't generally enjoy anything dry and fishy, except prawn cocktail Skips and prawn crackers).