I recently followed my first ever Burmese recipe, for a lamb meatball curry, to a surprisingly successful conclusion. I had never knowingly eaten Burmese food and neither did I know much about Burma-now-Myanmar and its cuisine.
The recipe listed sixteen ingredients, which is on the cusp of being too many for the likelihood of not having to go on a food shop. Onion, yes. Root ginger, yes. Garlic, yes. Going well, I thought. Lemongrass, ah. Well, I had one stick from a dinner a few nights ago, a partial "yes" being less irritating than a complete no (I can see that is shaky logic). Red chillies, sort of yes. That same meal the other night had demanded bird's eye chillies, and I still had some left, their being too lightweight to not buy just the two I wanted when they're sold by weight. They're too hot for me, so essentially that was another item for the shopping list, less-fiery red chillies. Fresh coriander, I used it up two days ago. So that was added to the list too, despite feeling a sense of its presence in the fridge still. Fish sauce, whoop, yes, in the fridge. Cornflour, well we have it at home but not in the house where we're staying, so that's a yes but not here, which is more of a yes than a no. So I added that to the list because that really did count as a "no", even if not psychologically. Peanut oil, would you believe it, already purchased for our temporary-residence kitchen. Paprika, yes, I had brought that from home knowing I'd use it. Result. Dried chilli flakes, ditto. Shrimp paste, yes. Feeling very pleased with the Indonesian recipe last week that needed shrimp paste, which I'd thought I may not need again within its realistic lifetime as an opened package in the fridge. Can of chopped tomatoes, yes. Tamarind water, so smug, I'd bought a tamarind concentrate a fortnight or so ago, which was still good and in the fridge.
So, lemongrass, lamb mince, red chillies, coriander, cornflour. Not too much to buy for a Burmese recipe, which I'd assumed would contain more things I didn't have, though I acknowledge that it's unusual for me to have shrimp paste, tamarind concentrate and even the one stick of lemongrass. Incidentally, without "cheating" and Googling, does anyone know how much of the lemongrass is actually good for using, ie how much do you need to peel and get rid of; it seems to me that most of the stick is mere packaging?
Anyway, the recipe was straightforward and clear and, would you believe it, my "Inle Lake lamb curry" actually looked like the one in the photograph, albeit with unprofessional, ie poor, lighting and a lack of pleasing presentation or the right kind of vintage plate for an Instagrammable photo.
I often make Indian curry, occasionally Thai curry. This was like neither and yet reminiscent of both. I say this as if it's a revelation, but Burma-now-Myanmar borders India and Thailand (and, who knew – ie not me – China, Laos and Bangladesh) so the similarities-yet-differences are entirely without surprise.
The main faff was having to get out and use a stick blender (I have limited options in this kitchen, but whatever you'd use to "blitz" onion, ginger, garlic and lemongrass; he does suggest a pestle and mortar if you're feeling energetic and in ethnic mode. I was in neither mode, though it required energy to find, clean and test the vintage stick blender).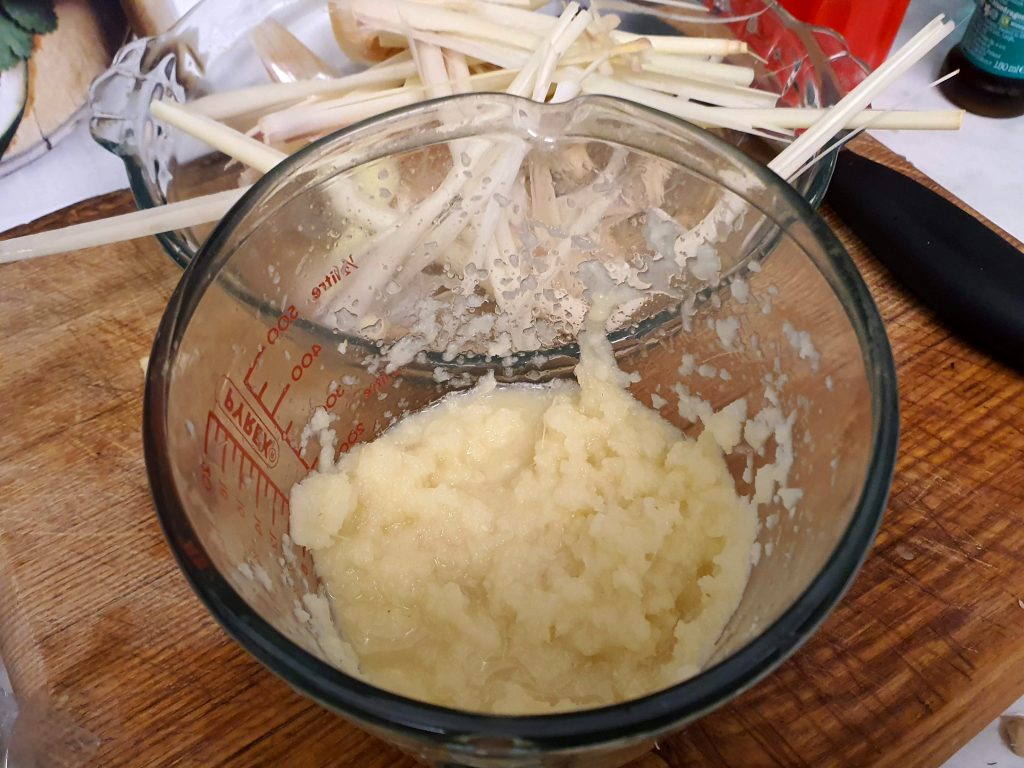 I expected my meatballs to disintegrate on frying or, if they made it intact through that stage, while stewing in the sauce, mainly due to my inability not to prod and stir meatballs in sauce while they're cooking. But no, every one of them came out whole and, if I may say so myself, perfectly formed and tasting splendid.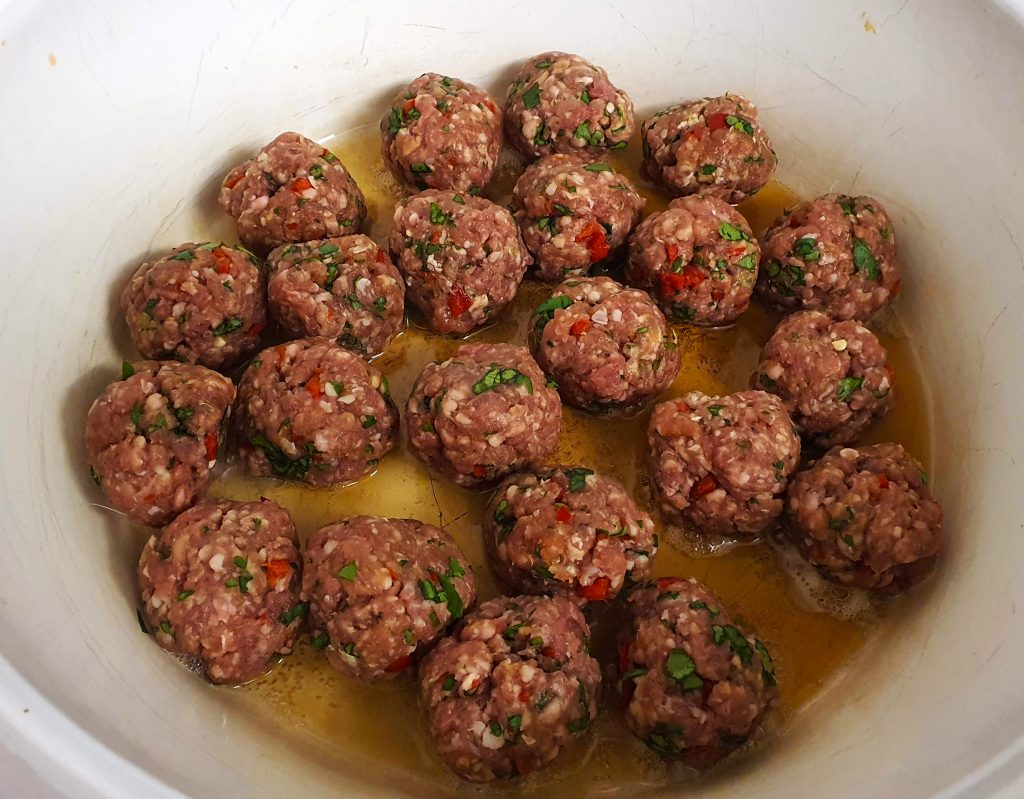 I didn't bother to Google, or indeed read the label, how much tamarind concentrate is required to make three tablespoons of tamarind water. It tasted fine (I went for one spoon of concentrate, two spoons of water) and looked suitably exotic compared to my less-dark-brown commonly-used ingredients.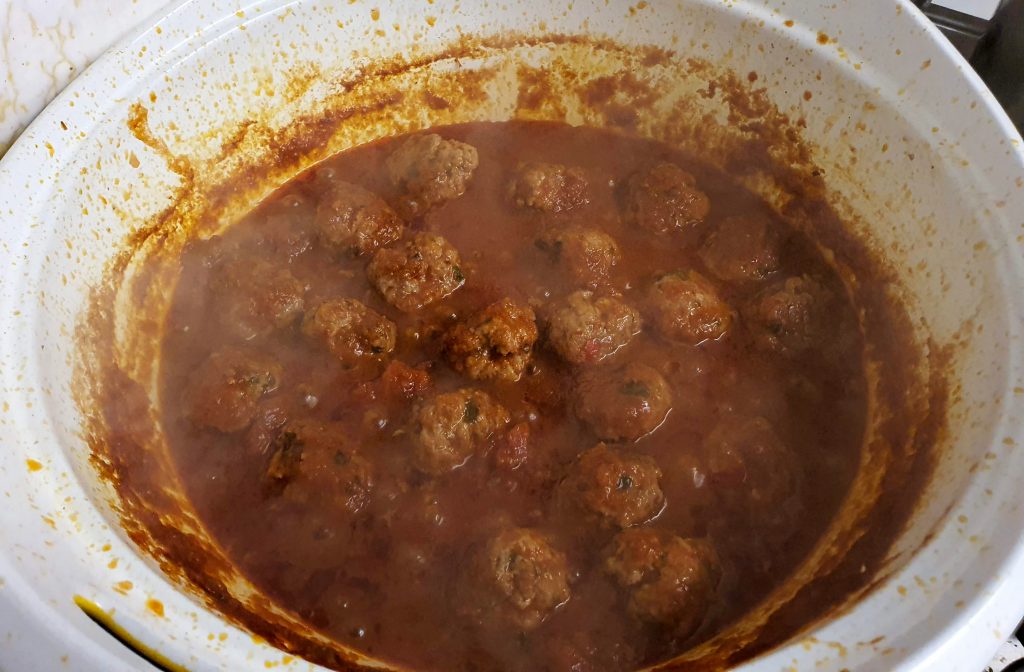 It all went rather smoothly and well. Alastair Hendy said the sauce ends up looking like a richer and darker chilli con carne. Spot on. He suggested serving it with rice, table pickles (not on my radar; I'm not a pickle person) and a wheel of veg and herbs. I made some coconut and lemongrass rice (I made it up, it was fine, but I could taste neither the desiccated coconut nor the lemongrass I had expected to infuse its way through the rice) and thinly sliced carrot (for me, really thinly; I default to chunky) and thinly sliced spring onion and chopped coriander leaves. I made them into a semicircle of healthy raw veg, topped them with the rice, then poured over the rice a very tangy (in a good way) dip that I'd made for chicken dunky-chunks (I had also made "Alastair Hendy's Railway station chicken", chunks of deliciously gingery chicken that I thought, rightly as it transpired, would make a nice addition to my Burmese meal).
I served the meatballs in their dark, rich, spicy sauce in a small bowl on a plate alongside an even smaller bowl of the dipping sauce (which I ended up pouring over the rice and semicircle of veg), rice atop the veg and some coriander. I doubt somebody from Inle Lake, Burma would have recognised the presentation but I like to think the taste would at least have been reminiscent of Burmese food.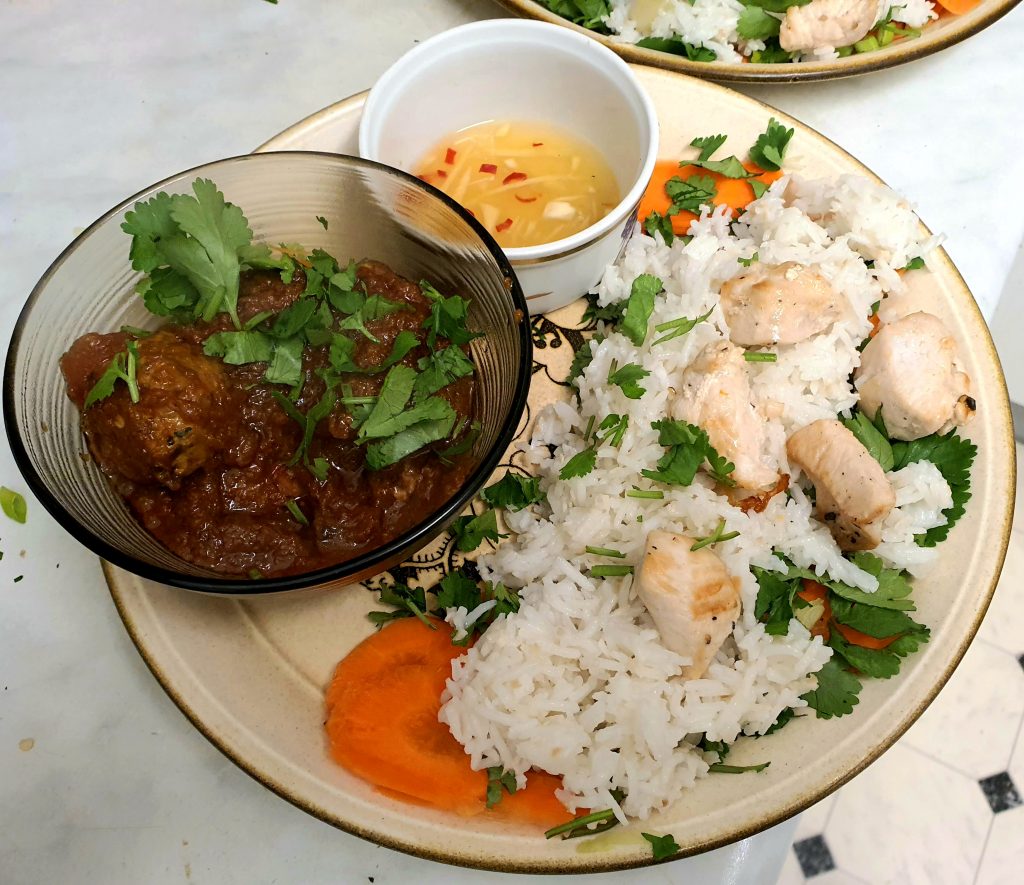 I think my partner, Chris, really enjoyed it. I liked it but slightly-sour, tang and heat isn't a taste combination that I consistently love. That said, I am happy that we have a second portion as a leftover dinner. I would even make it again but, with so many meatball and sauce variations in the world to try, I wouldn't make it again as a favourite go-to meatball dish, but possibly as a "Ooo, I have lemongrass, shrimp paste, tamarind, fish sauce, fresh coriander; what can I make with those non-store-cupboard ingredients so as not to waste them?" kind of dinner.
A day later …
Chris, can you believe it, sacrilege from a Burmese-Myanmar perspective, probably, said he would have preferred the meatballs with pasta rather than rice (insert horrified emoji). He also said the sauce was a bit too rich, but, no, that didn't prevent his enjoyment of it and, yes, he would happily eat it again … with pasta. Grr, I now fancy spaghetti and meatballs with ragu. Prior to turning round to ask him for his thoughts on dinner, I was on a happy path to Googling more about the wonders of Myanmar and its cuisine.
Two days later …
Goodness gracious, two days later, leftover meatballs. About five times more delicious and with more punch. I would now definitely make this recipe again, but cook them at least a day ahead of eating. Seriously, they were so, so much more delicious a few days later. They even reheated well, with the meatballs still round and perfectly-formed.
Alastair Hendy's recipe, in one of my favourite cookery books (Food and Travels. Asia), is in full online, as it is written in the book and as I made it.